It's summer-time, and that means lots of summer cook-outs! Not sure what to prepare for those pesky vegan friends coming to your 4th of July BBQ?? – DON'T WORRY- dKC has got you covered. If you don't feel like making anything from scratch – these items will make this so easy for you to make your vegan friend feel considered. Maybe grab an extra pack so that you can try some of these plant-based alternatives out for yourself!
GRILLIN' —
What's an American Independence Day without throwing some meat on the grill? Your plant-based patriots will love to indulge in these recommendations:
Nikky Recommends:
*Beyond Meat Sausages: These are absolutely amazing, the texture and flavor are spot on to an Italian sausage that you'd get at a ballpark covered in onions and peppers. I personally like to have them with mustard and some ketchup — along with the onions and peppers of course. I'd suggest these over getting vegan hot dogs. 
Jason Recommends:
Grilled Mushrooms
Portabellas are always a solid option for grilling if you want a nice meaty substitute that responds well to heat. However, there are several variations of mushrooms that work just as well. King Oysters can be cut lengthwise and seared until golden brown for a naked "meat" option. Blue Oysters, Maitake and Lion are excellent for marinating and cooking on the grill as "steak" or "chicken wings" in the case of the blue oysters. Whether you're using a go-to recipe or something adventurous for your marinade, you should have satisfying results.
DKC Recommends:
*Beyond Meat Patties: These are the best plant-based burgers for the occasion. You'll be amazed when you take a bite and experience the juicy flavors and meaty textures filling your mouth. Beyond has a variety of different burgers, even ones called THE COOKOUT CLASSIC, so feel free to choose whichever one you think your vegan friend would like best – I promise, they won't be disappointed. They'll be so grateful to see you provided an alternative for them to enjoy!
"The Beyond Burger is a plant-based burger that looks, cooks, and satisfies like beef. It has all the juicy, meaty deliciousness of a traditional burger, but comes with the upsides of a plant-based meal. The Beyond Burger has 20g of plant-based protein and has no GMOs, soy, or gluten It has no [GMOs, soy, gluten or] bioengineered ingredients, and is made of quality ingredients—like peas and brown rice. It's an excellent source of protein with 20g per serving. Compared to 80/20 beef it also has 35% less total and saturated fat, lower calories, no cholesterol, more iron and comparable B vitamins and minerals.." -Beyond Meat
SNACKIN' —
Nikky Recommends

Caramelized onion dip from TJ. If you're having a cook-out, I know you've got chips and dips. Sure, you could have chips and salsa, but if there is a Trader Joe's in your area this Caramelized Onion dip is sure to be a game changer for your get-together. Imagine french onion dip if it was living its best life. It's got that sweet onion flavor and it's so creamy, you won't believe that it's completely plant-based. I love dipping cauliflower or other veggies in this dip – so consider having this along with the ranch at your veggie tray — but if you're looking for a chip to dip…
Jason Recommends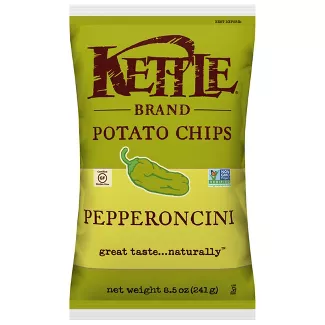 These are the bomb. Even if you don't enjoy pepperoncini, these will rock your world. Simple, dairy-free and super-addicting. They're potato chips. Enough said.
DKC recommends
Fresh (and seeded) Watermelon Slices!
As much as we love delicious, salty snacks and inventive meat substitutes, it's important to have plenty of fruits and to stay hydrated. A great way to do both at the same time is to have watermelon available for the whole gang. It's understandable if you lean more towards seedless, but seeded is always better. Plus, the seeds can be eaten as they are and they sure pack a healthy punch.


DRINKIN' —
Nikky recommends:
Peachy Milkshakes!
Okay, so I realize I am asking a lot out of our hosts tuning in here. Here me out. It is peach season. They are so many affordable and accessible options of non-dairy vanilla ice cream. Take those fresh peaches you may picked off the tree (or shelf) yourself recently: throw them in the blender with some full-fat, canned coconut milk (any non-dairy milk is fine) and the vanilla ice cream and you may have just won the cookout game. Bonus points if you find a non-dairy whip cream!
Jason recommends:
Topo Chico
The ultimate seltzer water. If, somehow, you have never heard of or experienced the beauty of a Topo Chico, just read their simple explanation of what it is, directly from their website's FAQ page, and try and tell me you're not sold: "Topo Chico is a sparkling mineral water sourced exclusively from Cerro del Topo Chico in northern Mexico since 1895." I recommend the Twist of Lime flavor, but they do have plain and Twist of Grapefruit. Perfect partner in crime when it comes to combatting the heat. Topo Chico also has a hard seltzer variety, if you're feeling frisky. The flavors are slightly different, but just as refreshing!
dKC Recommends:
Margaritas 
Tequila is made from agave and is a safe way to make sure the alcohol you are providing is indeed VEGAN. Whatever margarita recipe you tend to rely on should work fine. Blend it with some ice and you can shoot for the stars with frozen margaritas. Maybe save some of your watermelon to take it up a notch?
We hope that you'll check out these cook-out and summer bbq recommendations – please let us know what you think of anything you try!
Don't forget to follow us on Instagram, like us on Facebook and check out our YouTube video.